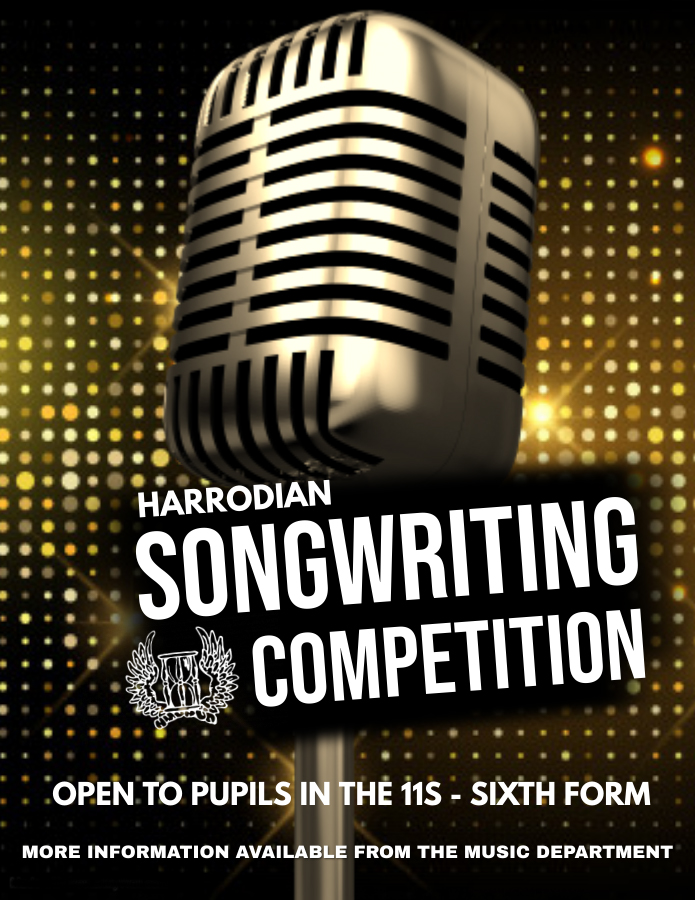 Harrodian is holding a songwriting competition open to all pupils in 11s (Year 7) to Upper Sixth.
After some of the wonderful songs and compositions submitted as part of a musical challenge in the first lockdown (click here for the chance to listen to some of them), the Music Department has been inspired to organise an official songwriting competition. 
Please see the following information/instructions for all those who wish to enter:
 
Submit a video of a performance of your original song (music and lyrics composed by you).
 
Songs should be no longer than 2 mins 30 seconds as a video.
 

Songs may be performed solo (just you) or by you and one other person from your year group.


 

There should be vocals and accompaniment (piano/guitar/ukulele etc.).


 
You should submit to Mrs Ashe via Google Drive on your school account by Monday 7th June 2021, 4pm.
 

The competition will be judged by Mrs Ashe and ably assisted by the other Music teachers



PRIZE!
There will be winners in the following three categories who will have the opportunity to perform on stage at the Summer Fair:
Upper Prep (11s & 12s)

Senior (13s, 14s, 15s)

Sixth Form
One of those will be selected as the overall winner who will have their song recorded and produced by Mr Almond.
For any further questions or information, please contact our Director of Music, Mrs Ashe.