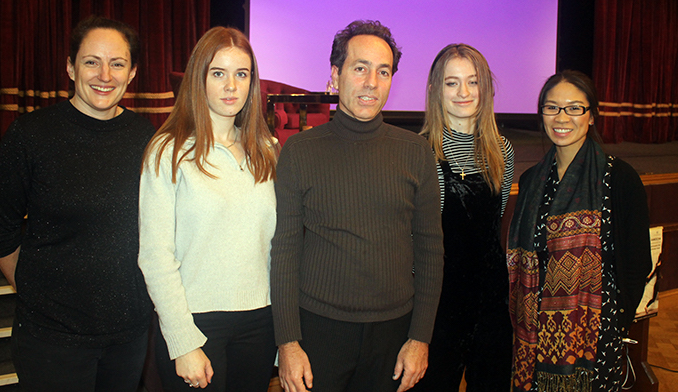 Harrodian's Lower Sixth art group discovered just how energetic the exercise of making art can be on Tuesday 20th November when, along with art teachers Ms Caldecott, Ms Howe and Ms Irons they took part in an interactive workshop run by Ram Samocha.
With his company, Draw to Perform, Ram Samocha has created the concept of 'drawing performance' which is described on his website as 'a stream of performance art in which artists create the artwork in front of a live audience while communicating with the viewers'. More informally he calls it 'all the things that happen between drawing and live action'.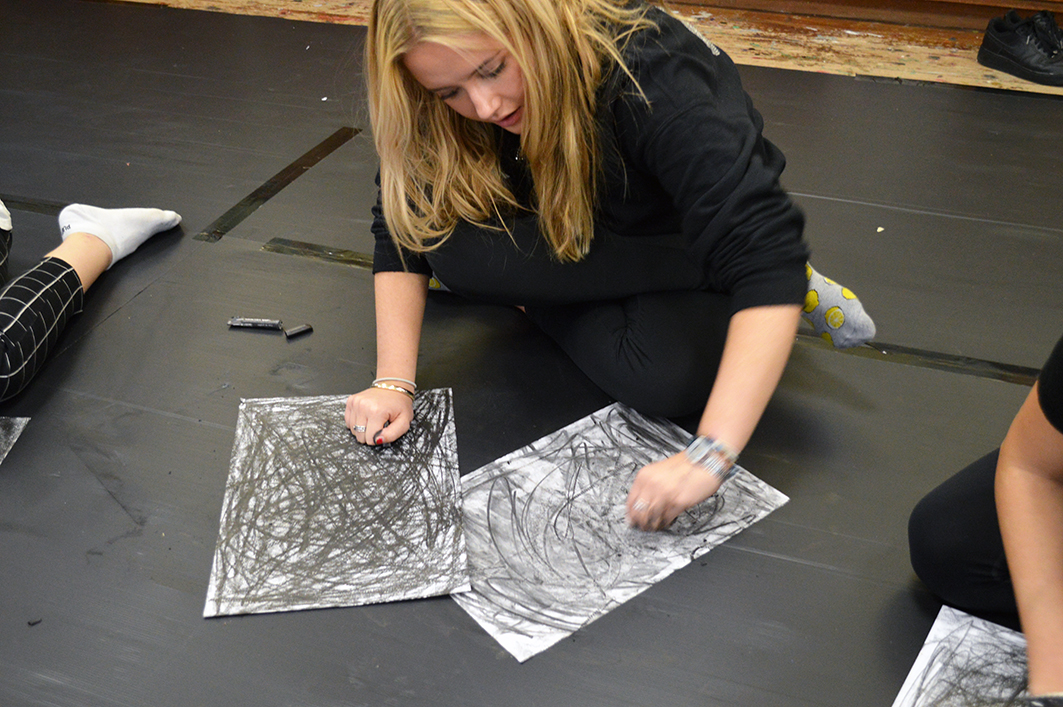 In Ram Samocha's hands, the process of 'taking a line for a walk' becomes distinctly physical
Ram Samocha takes inspiration from Paul Klee's description of drawing as 'taking a line for a walk' as a touchstone for 'drawing performance' but in his hands the process becomes distinctly and overtly physical. The session began with a warm-up exercise with the group moving their bodies and humming before they sat down on the floor for a 'mark-making' exercise in which they drew on two sheets of white paper with black charcoal and graphite.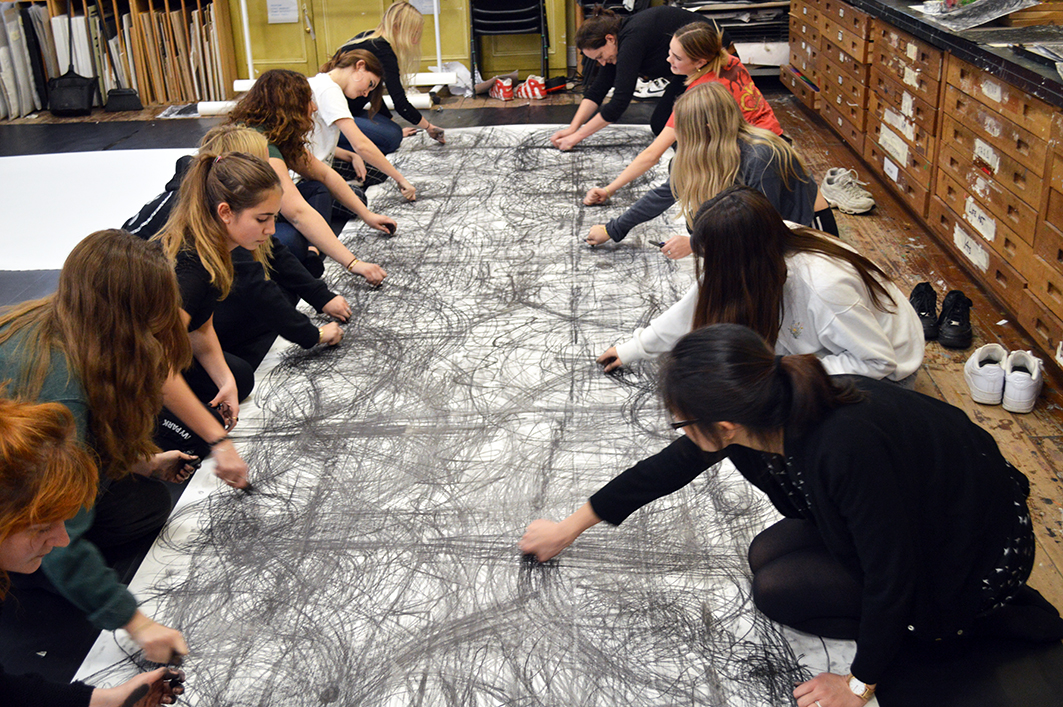 From then on, it was action all the way. The second exercise involved the whole group 'taking the line for a walk' across a strip of white paper that crossed the room from end to end with students crouching, kneeling and crawling as they drew. As the workshop gathered momentum, Ram Samocha added new ingredients that changed the course of the action. Students were asked to make loud noises as they drew, to speed up and slow down or to head in a new direction.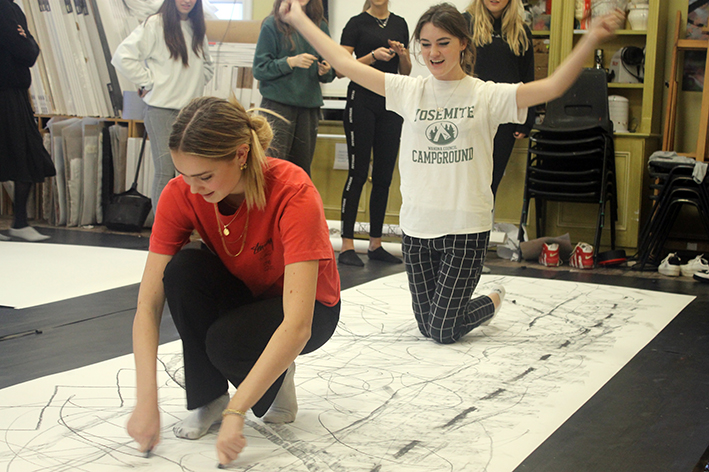 In the last exercise, participants graduated to full colour. Each took turns to sit in the middle using pastels to make continuous marks around each other.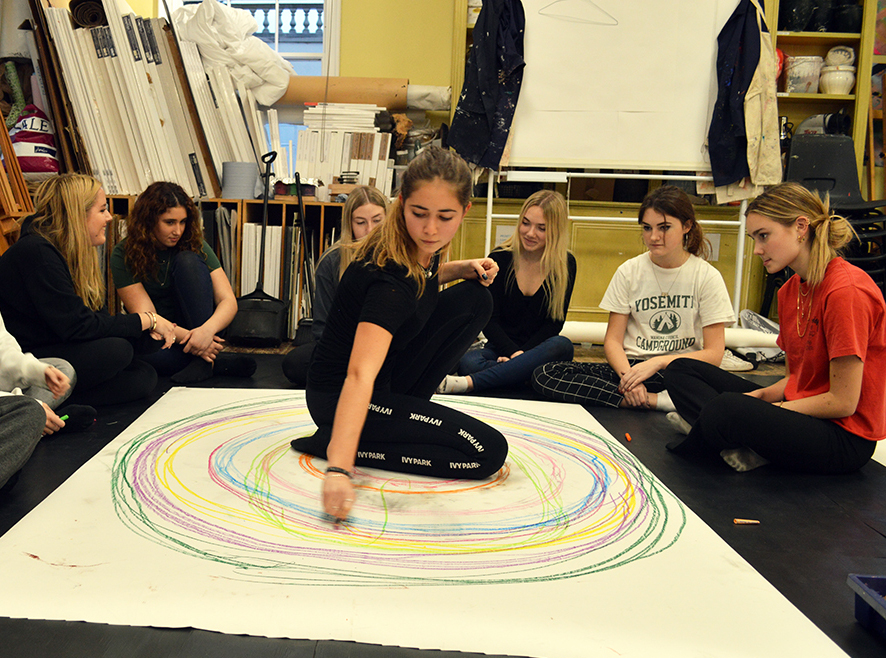 In the after-school talk that followed the workshop, Ram Samocha told the audience that what he loves about drawing performance is that 'it is art that relates to your body' and whose outcomes 'depend on where you perform'.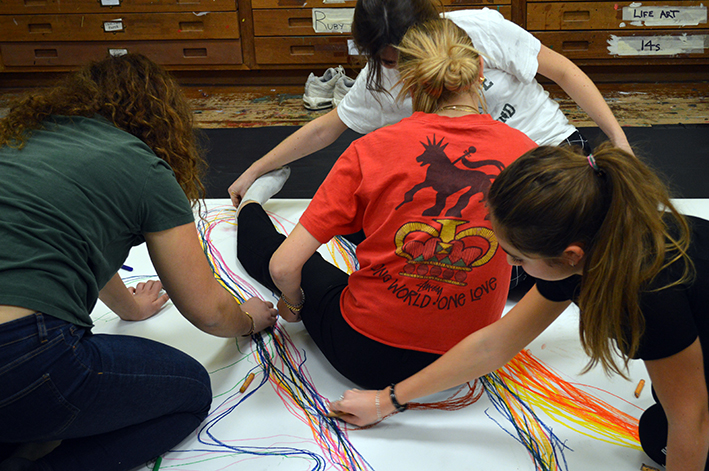 Harrodian's own performers were enthusiastic. 'I enjoyed it. It took me out of my comfort zone,' said Lower Sixth student, Tara. 'It was very physical and I had to use my whole body.' Art teacher Miss Howe seemed to find the experience more spiritual: 'The process of drawing becomes a ritual,' she said. 'It's a performance but it's also reflective, contemplative and meditative.'
To watch a film about Ram Samocha's company Draw to Perform, click on the link below