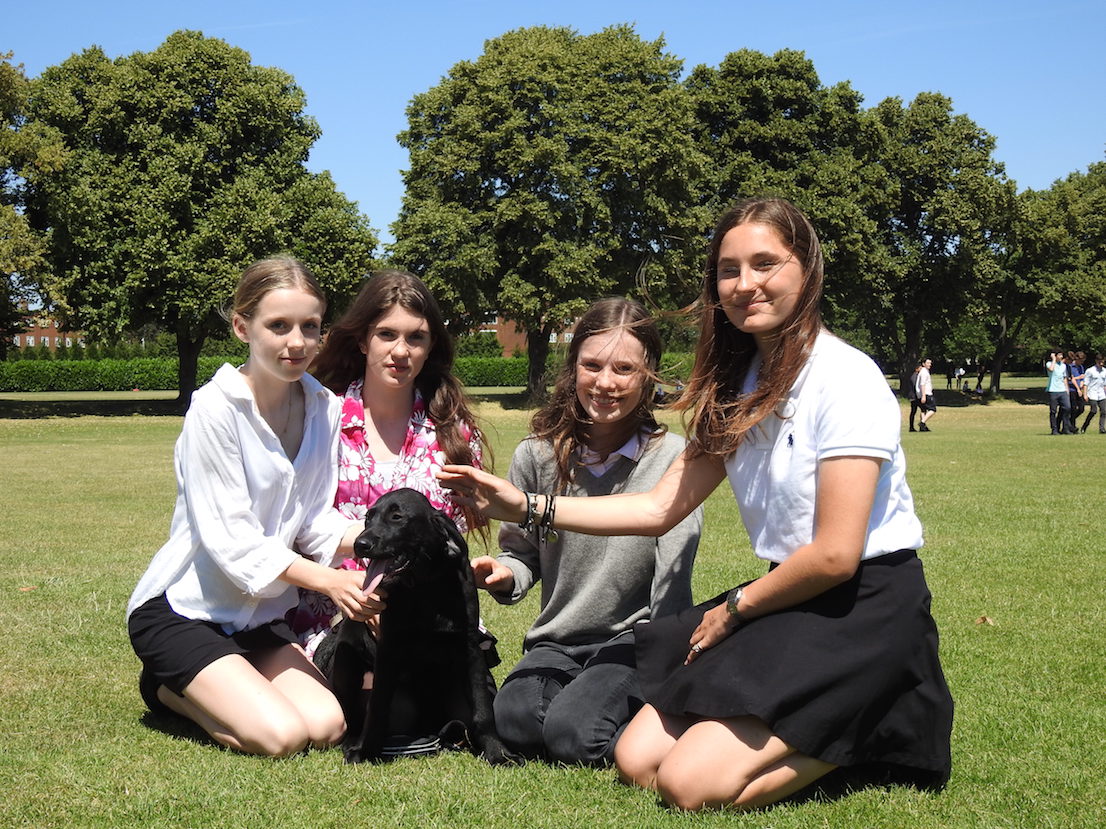 Pupils from three YPI (Youth Philanthropy Initiative) groups of 13s (Year 9) enjoyed a special lunch this week to celebrate their fundraising efforts on behalf of a trio of charities: Missing People , Guide Dogs for the Blind and Riding for the Disabled. After everyone had enjoyed pizza, brownies and ice cream in the sunshine, representatives of the charities were presented with a cheque for £4000 to be shared between them in the presence of a very cuddly guest of honour: Nara, a black labrador puppy and budding trainee Guide Dog.
The story doesn't end here for the YPI groups, all of whom have pledged to continue their fundraising. Not content with the £1500 they have raised for Guide Dogs for the Blind, Agnes, Charlotte, Ines, Belle (above, Jackson not shown) are determined to raise an extra £1000 to allow Harrodian to reach the  £2500 required for the school to name its own guide dog puppy. Their drive to raise cash continued with the group running a second hand Harrodian uniform stall at the Harrodian Summer Fair two weeks ago (with the school matching the sum they raised) and the team is dreaming up new ideas for the autumn. 'More cake sales are sure to be part of the plan,' says Agnes.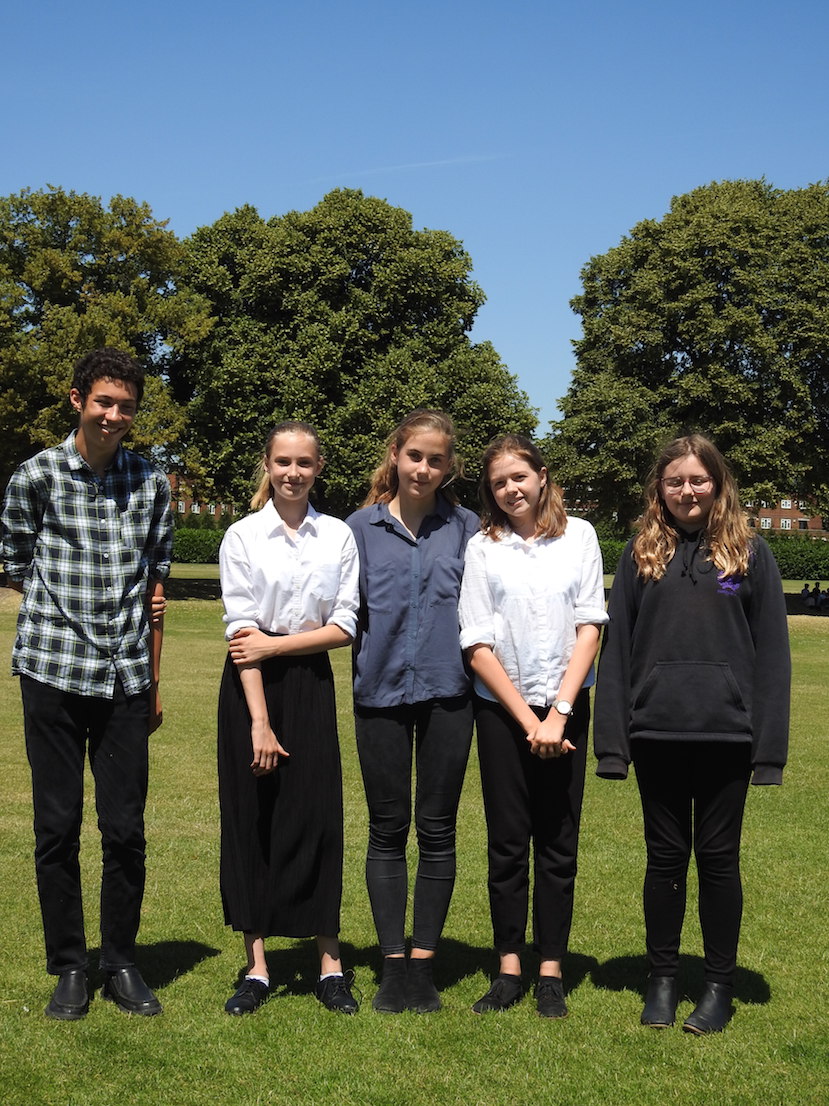 Harrodian Youth Philanthropy Initiative (HYPI) is unique to the school and involves all Harrodian's 13s pupils. HYPI aims to inspire them to work with and fundraise for grass-root charities in groups through events such as mufti days and the 'Bobstacle' challenge as well as the school's beloved cake sales. Each team is also asked to become advocates for their chosen charity by making a Dragons' Den style presentation to a group of judges and charity representatives with the winning team getting a special grant contribution from the school to its fundraising push. So impressive were this year's pitches that, as well as the winning group, (made up of Sophia, Donovan, Matilda, Isabela and Lily, above) grants were also awarded to two runners up groups, Riding for the Disabled (Imogen, Anna, Emily and Tabitha, below) and the Guide Dogs group.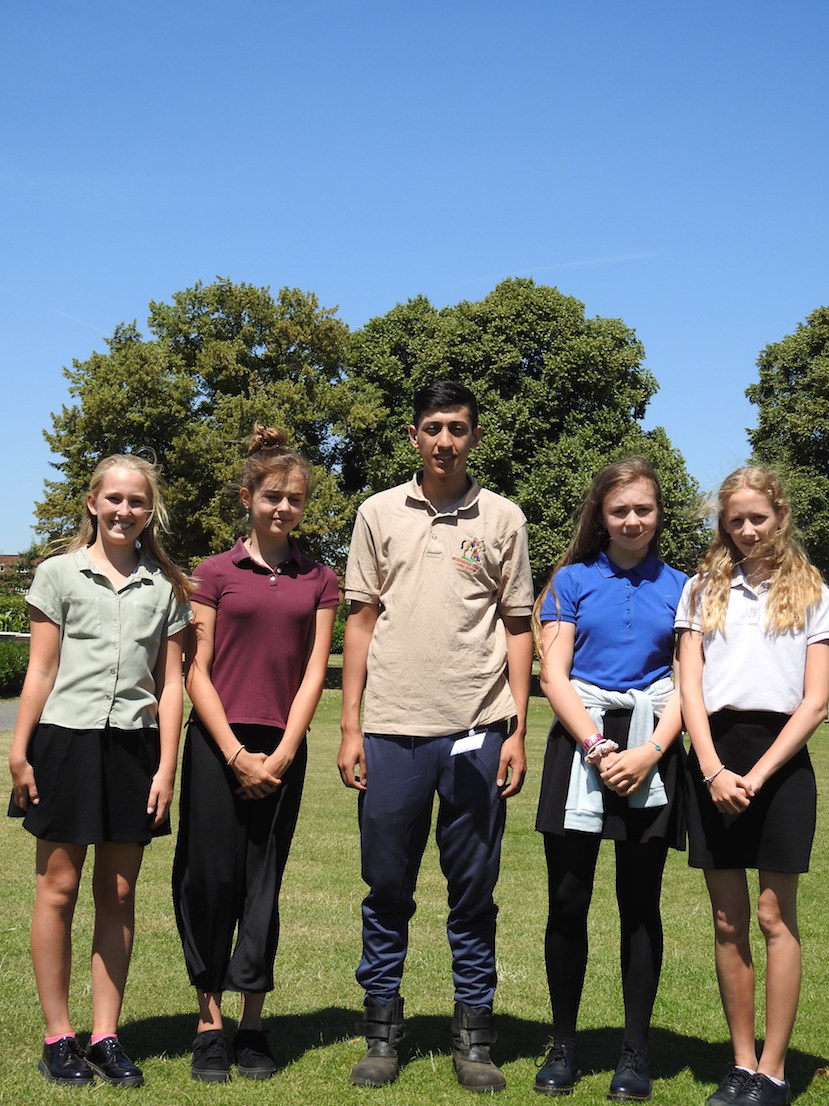 Explaining their support for Missing People, a charity devoted to helping both missing children and adults and the family and friends of those who have disappeared, Lily commented. 'We didn't have a clear idea of a charity to support at first but when we came across Missing People, it began to dawn on us what a big social issue it is and how much more needs to be done to raise awareness of the problem.'  The Riding for the Disabled group chose their charity because of their own knowledge of horses. 'As keen riders ourselves, we know how much fun it is,' says Anna. 'We really wanted to help a charity that is dedicated to giving disabled people a special pleasure which would not be available to them otherwise.'