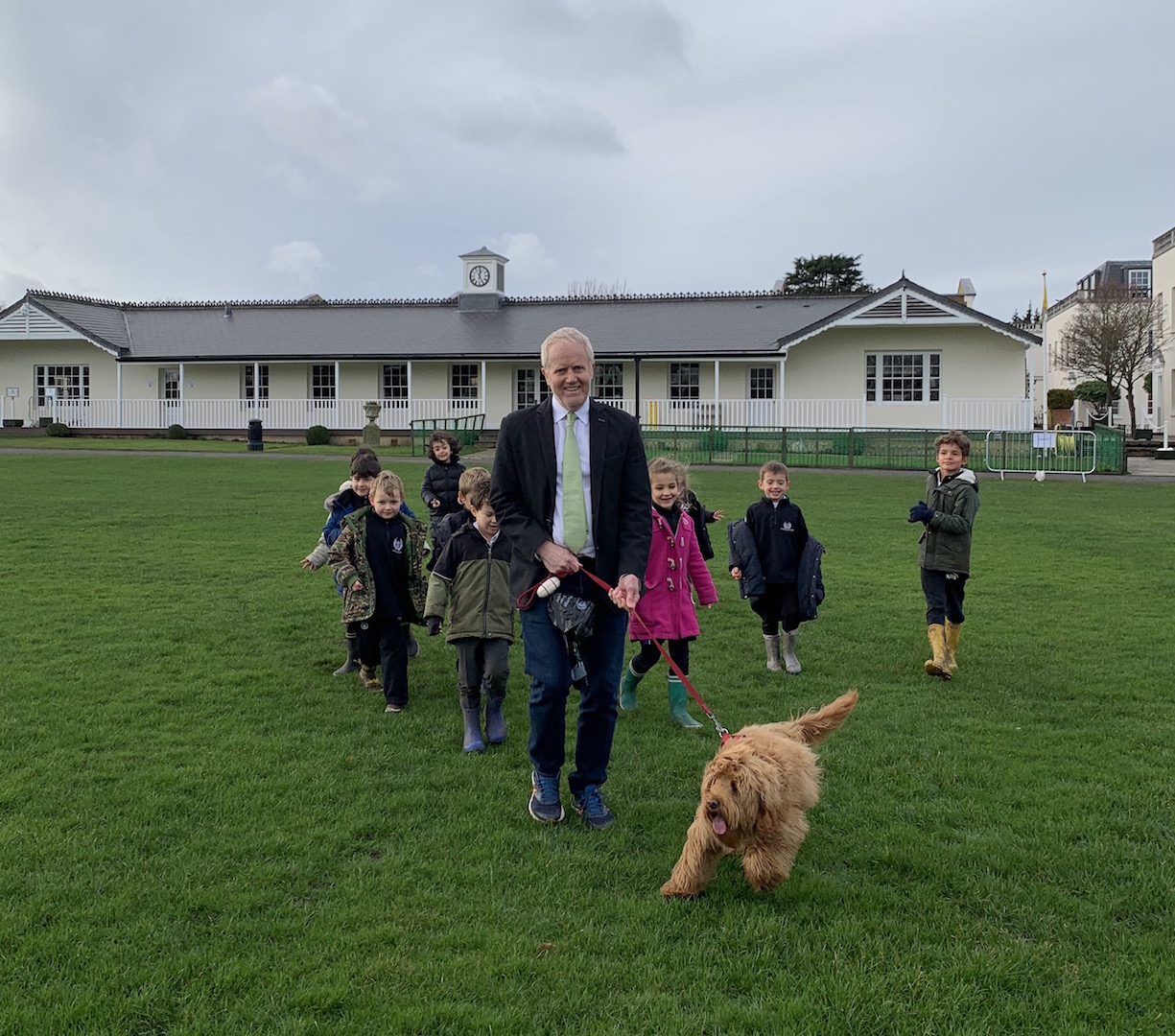 We report on how Harrodian teachers and pupils are coping with lessons, exams and life in Lockdown Mark 3  
If nothing else, the twists and turns the Covid 19 crisis has taken in recent months have served to remind us of the importance of taking nothing for granted in these troubled times. Less than three weeks ago, after all, Harrodians were preparing for a staggered return to what was envisaged as an (almost) 'normal' on-site face-to-face Spring Term.  In line with Government instructions, by early January, Harrodian had put together a Lateral Flow testing team led by Emilie Keeling. Based in the Auditorium and designed and installed by our in-house team the unit was set up to provide rapid mass Covid tests for returning Harrodians groups, first the Harrodian staff, and then all our A Level and GCSE students who were scheduled to start Mock exams on Monday 11th.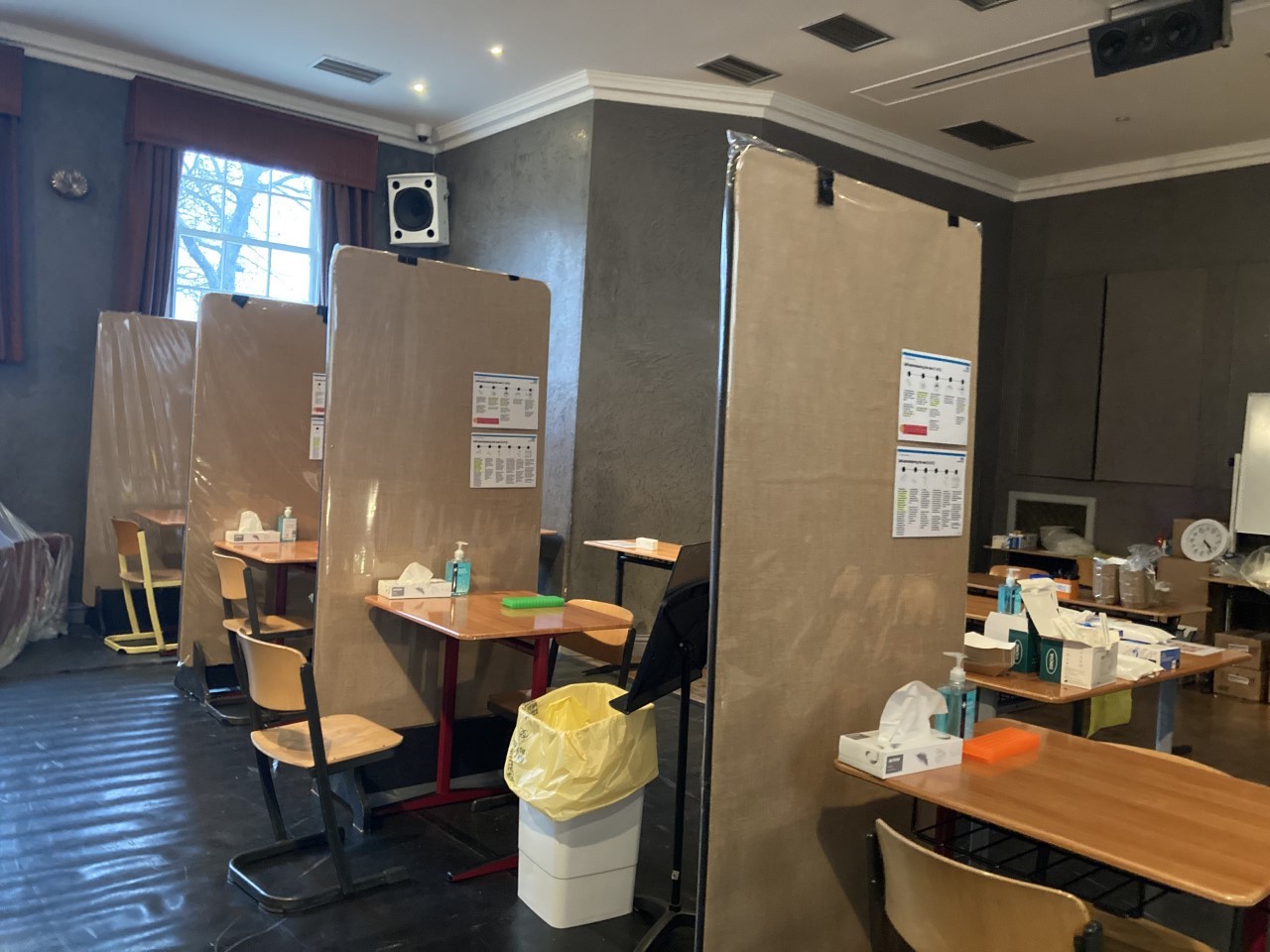 Three weeks later, the testing unit, above, is ready for action but Harrodian's school and grounds remain almost as underpopulated as they were last spring. Only around 50 people are on site most days. Mr Hooke and Bronwen Lewis, once again holding the fort, essential Admin and Maintenance staff and some teachers are working on site. But the only pupils are a small band of key workers' children from Pre-Prep and Prep age groups, along with the teaching assistants caring for them.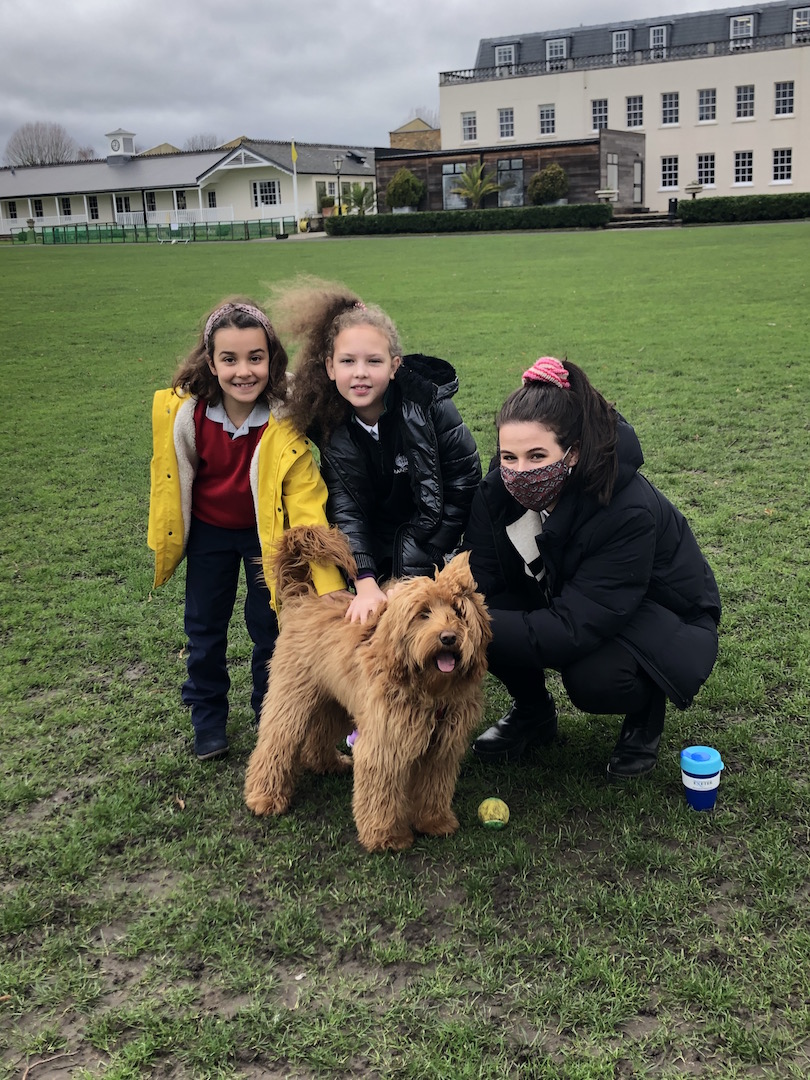 Lockdown did not cause a crisis. Harrodian has learnt to expect the unexpected over the past year.
While it was a big blow, when it came at 8pm on 4th January, less than 12 hours before the scheduled return of teachers, the Prime Minister's lockdown announcement did not cause a crisis. Harrodian has learnt to expect and plan for the unexpected in the past year. Online teaching across all age groups were in place within a day or two and plans were being made for the January Assessment tests too. As Mr Hooke recalls, Harrodian Head of Sixth Form, Mr Behan was quite sure from the word go that Harrodian had the resources to make a success of moving exams online. 'Our confidence to have a crack at it was based on a good experience with the then Lower Sixth doing their Summer Exams online last June,' he says. 'We felt sure we had an Exam Team with the skill to build the complex online 'architecture' required and the attention to detail to audit and iron out the inevitable glitches.'
As it turned out, the January Assessments proceeded with the efficiency of a well-oiled machine (as you can see from Mr Behan's photo of the whole 15s year group sitting a an online Physics exam, above). Three weeks on, 88 A Level students and  82 GCSE students have sat 300 exams per day submitting around 2500 papers overseen by Harrodian staff with the help of ten professional invigilators. Mr Hooke is delighted with the performance of Harrodian's backroom team. 'The ability of the 15s to cope was untested but they stepped up magnificently,' comments Mr Behan. 'Both year groups treated this exercise with the seriousness it deserved and they have gained invaluable experience from it.'
The students also adjusted swiftly and uncomplainingly to the challenge. Upper Sixth Former, Freddie, makes light of the experience: 'We had practised the format of online exams last summer so the transition from in person to online was an easy one,' he says. 'We have definitely started to get the hang of it more and more.'
Most of the Pre-Prep curriculum is now on-line. All the classes from Reception to PP3 have live whole class lessons in Maths and English.'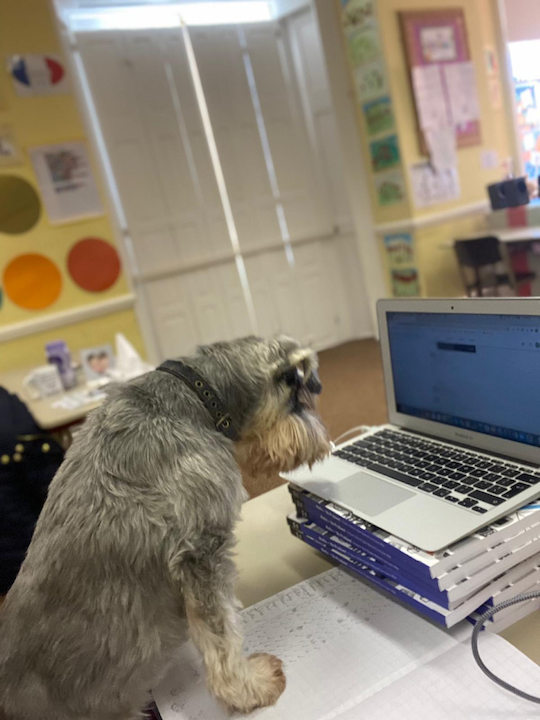 While it's possible to argue that students don't suffer much by taking their exams in their bedrooms,  it's clear that on-line learning can never live up to the real face-to-face thing. Even so, Harrodian's on-line learning has clearly taken a step forward since the pandemic began.
More online teaching is available at junior levels. In Pre-Prep for example, most of the curriculum is now online. 'All the classes from Reception to PP3 have live whole class lessons in Maths and English,' says Head of Pre-Prep, Lucy Horan (whose dog Murph also lent a helping paw, above). 'The teachers introduce the lesson and then stay online to assist the children and are available for the children to ask questions.'
Many of the classes have live sessions in the afternoon too, with all classes having small groups sessions to do PSHE, Show and Tell or reading or phonics activities. Miss Horan says this small group time is crucial as it gives the children more time to connect with their teachers and peers. 'The teachers have been amazingly creative in keeping the children engaged,' she enthuses, citing Year 1 teacher Ms Collins as an example. Her partner works for a company called Zoolab which takes reptiles on special school visits and the class is doing an animal meet each Friday, including today's choice, a corn snake (below).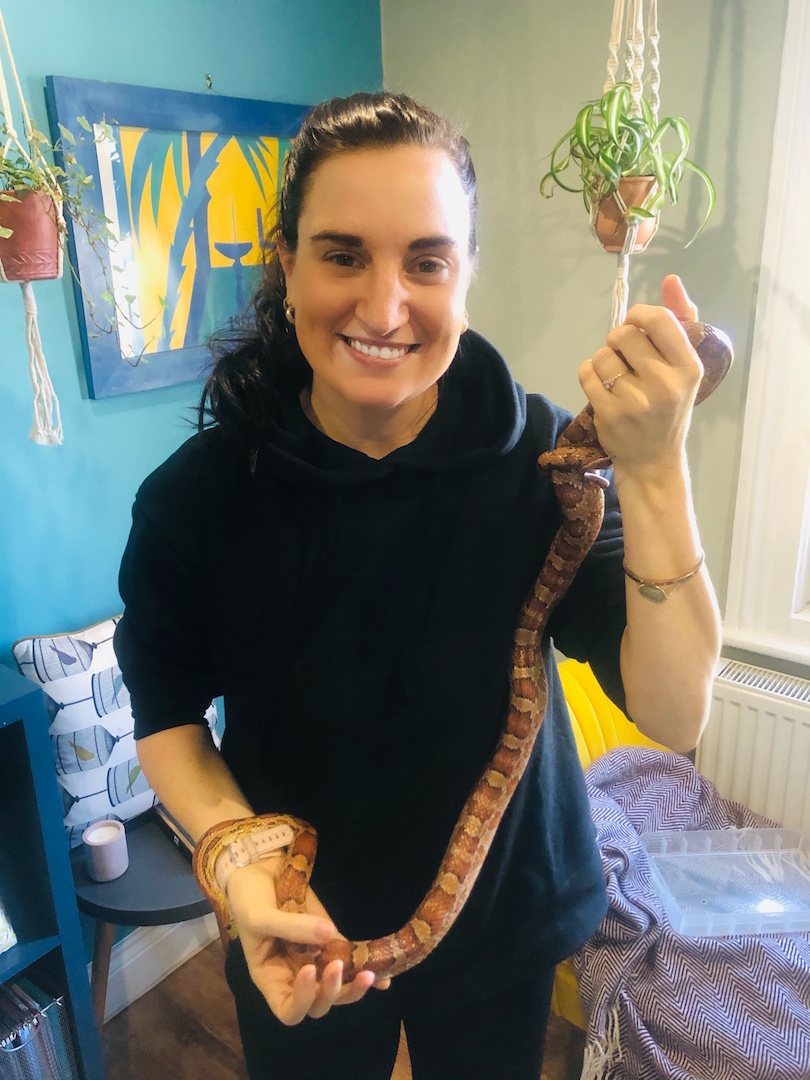 Taryn Oldacre, Harrodian Head of Science (as well as Schools Council Coordinator) believes that teachers across the school have also upped their game significantly.  'I think everyone is much more comfortable with online learning this time around. Teachers have mastered the art of setting assignments in google classroom and using lesson time to consolidate or teach new ideas,' she says. 'I have also run sessions and made video tutorials on how to mark online work. The feedback we've had from School Council sessions that are continuing online (below) has been overwhelmingly complimentary and positive.'
Teachers have mastered the art of setting assignments in google classroom and using lesson time to consolidate or teach new ideas.
Taryn Oldacre, Head of Harrodian Science
The thing that's largely missing from the online experience is of course, the group dynamic – the sense of shared purpose and fun (encapsulated in this piece by Mr Hooke's pictures of himself with assorted Pre-Preps and his dog Luna yesterday).  Always a strong ingredient in the special Harrodian spirit, at the moment, this 'X Factor' is only really available to the few pupils who are permitted on site. It's an issue that the Headmaster is acutely aware of. 'I'm doing my usual assemblies and Story Time sessions with the Pre-Prep,' says Mr Hooke  'And we're making sure that at all age group levels we hold onto the communal and pastoral essentials, such as form periods and assemblies.'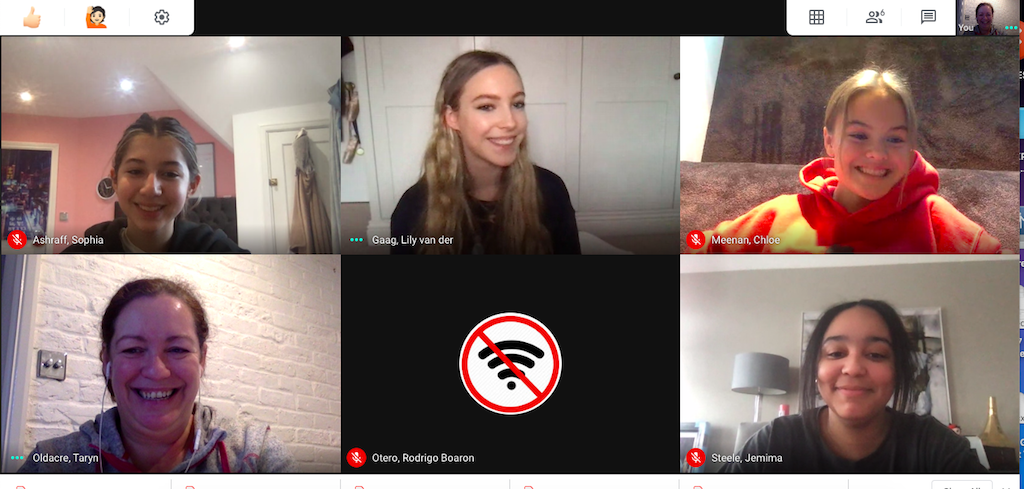 As Schools Council Co-Ordinator, Taryn Oldacre is also conscious of the danger of solitary online learning impacting on mental health. 'I think many teachers are deliberately dialling back the amount of online homework to give students an opportunity to step away from their screens,' she says.
I much prefer school in person but going on-line isn't all bad. It has actually really sorted out my organisation.
Freddie, Upper Sixth Former
So how are the students coping with a return to lockdown? Upper Sixth former, Freddie, remains upbeat. 'I much prefer school in person but going online isn't all bad,' he says. 'It has actually really sorted out my organisation, as it manages to file away all my work in the right place and send me reminders about assignments!'
Lower Sixth former, Lily, is similarly upbeat but admits that screen fatigue is setting in. 'Giving us less homework or letting us finish Google sessions early is appreciated because the bad weather makes staying inside and looking at a screen repetitive,' she admits. 'I'm not sure how much they can do about mental health because more sessions would increase our screen time but teachers chatting and letting us know they're there for us is the best way they can help.'
Teachers chatting and letting us know they're there for us is the best way they can help
---