GCSE and A Level artwork displayed at last term's summer exhibition is finally available to view here on our website. It hasn't been possible until now to show this in the public domain due to examination board restrictions. Read on to view some of the exhibition artwork, find out about all the many art clubs on offer for pupils this term, and meet new Art teacher Mr Joe Simpson.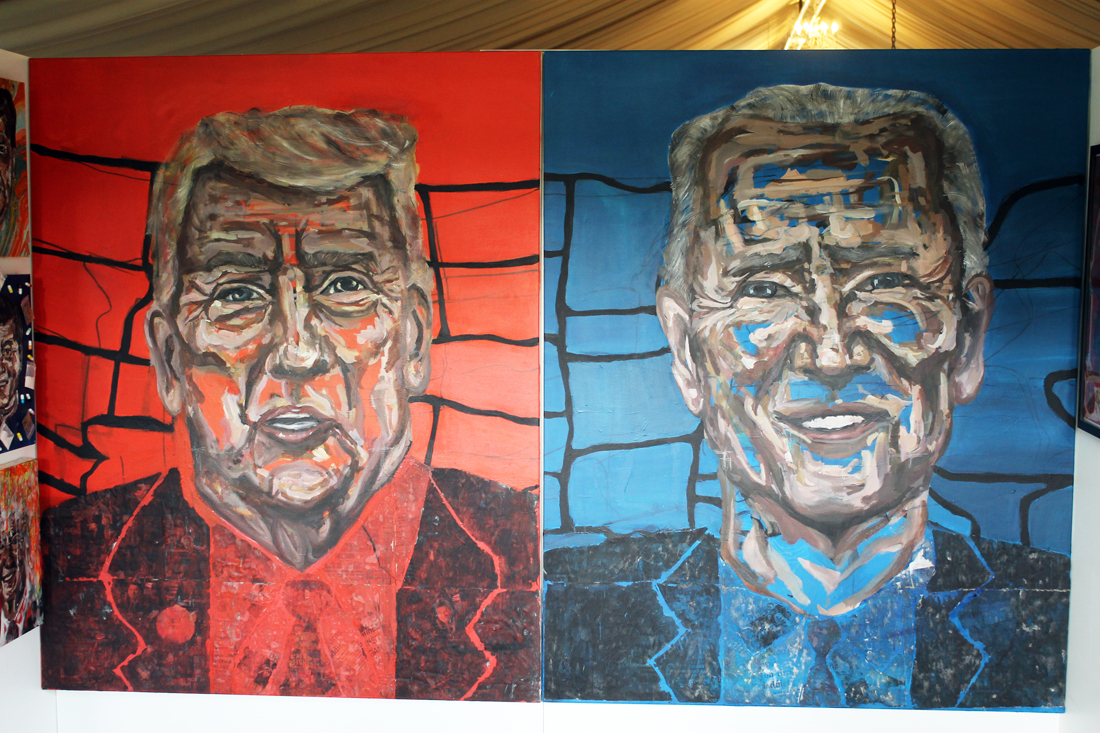 An uninhibited spirit of adventure has always been a trademark of the summer exhibition that marks the climax of A Level and GCSE visual arts courses at Harrodian and after an absence of two years due to the pandemic, this year's show more than lived up to expectations. 
Head of Art, Laura Caldecott, was thrilled to see the return of Harrodian's summer exhibition and says, "it is wonderful to see this event back on the school calendar after the pandemic. Pupils of all ages throughout the school look round the exhibition and hopefully feel inspired by the work of their peers, and of course it is a great way to celebrate and showcase the artistic talent here at Harrodian."  
Pupils of all ages throughout the school look round the exhibition and hopefully feel inspired by the work of their peers, and of course it is a great way to celebrate and showcase the artistic talent here at Harrodian.
Head of Art Laura Caldecott
The exhibition was officially opened by London based sculptor Sophie Marsham who gave a short introductory speech and presented one of her own sculptures. She was full of praise for the range of media on display in the Marquee, which she described as both diverse and original. Bold and colourful painting – from both A Level and GCSE students – sat alongside architectural sculpture and vivid, mixed media installations at one end. At the other, striking and original photographic work shared tent space with displays of graphic and product design ranging from household items such as kettles and deck chairs to innovative packaging and branding solutions. Films made by Media Studies students were shown on a big screen in the dining room, below, alongside a display of magazine cover designs.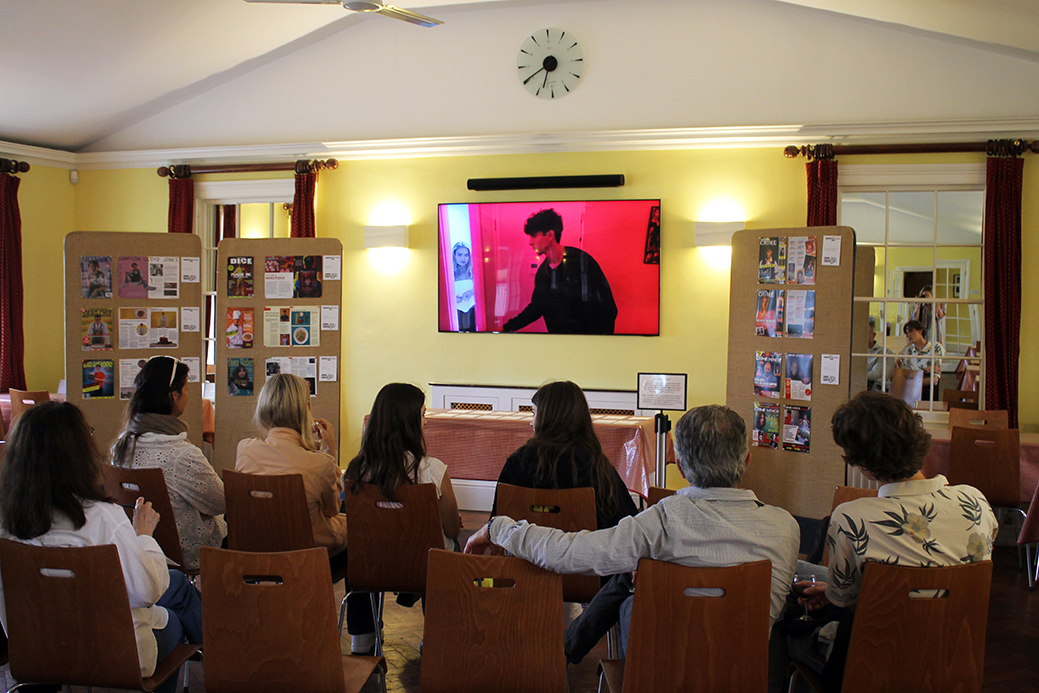 As usual, the exhibition had its fair share of passion too. Harrodian's young artists and designers have never been shy about tackling the big issues of the day, head on. Among subjects to come under investigation this year were sexual harassment and consent, feminism, democracy versus autocracy, American politics, censorship and the impact of the pandemic.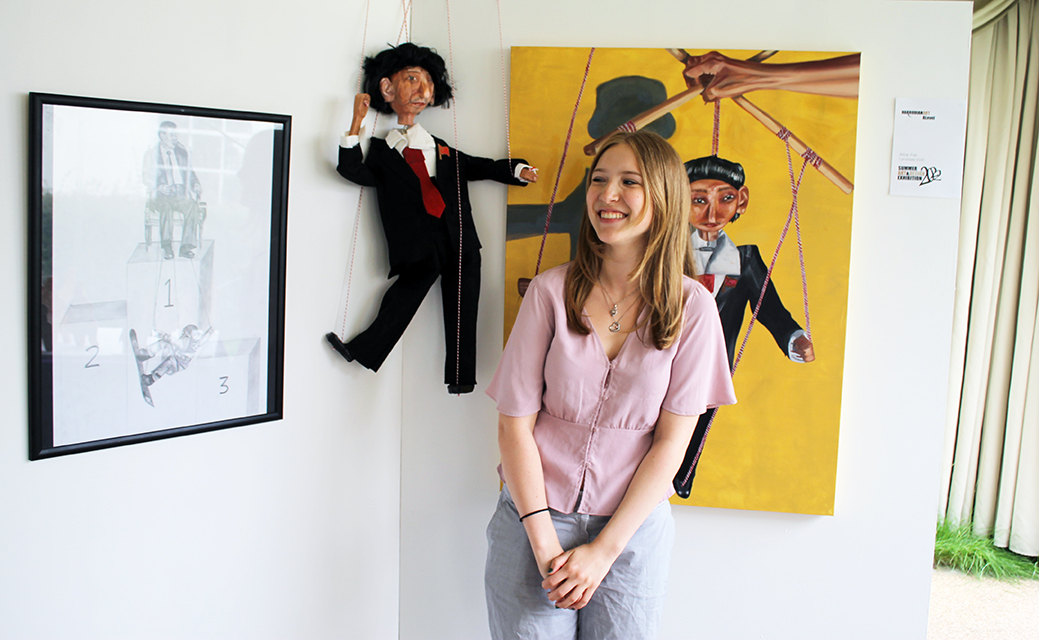 Alice's painting and artwork, including puppets (above) and a Chinese terracotta warrior, were created in response to an A Level art project entitled East and West. She set out to challenge the existence of censorship and oppression in current times. Her puppets represent the lack of freedom that comes with autocracy. Alice achieved A* in Art and has gained an Art Foundation place at Kingston before reading History of Art at The University of Edinburgh.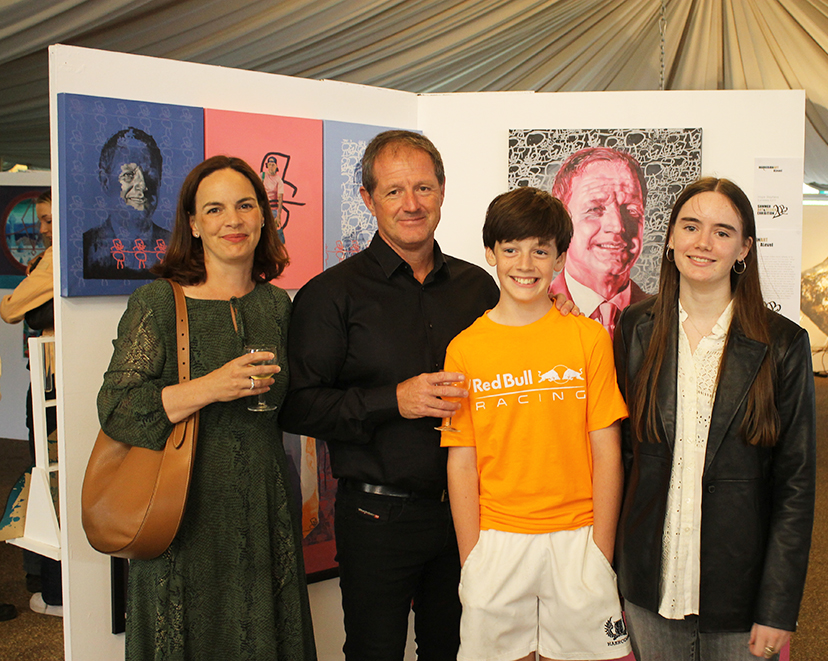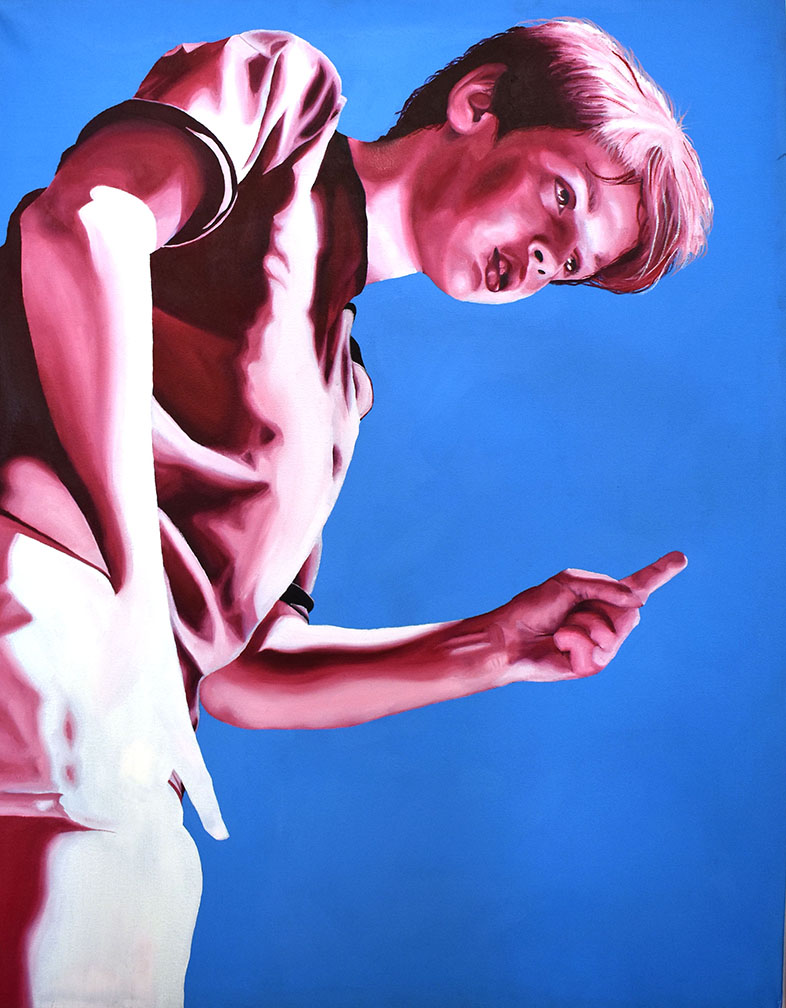 Hope explored the idiom 'ignorance is bliss' in her artwork and focussed on the theme of childhood, particularly in the portraits of her younger brother Jack, above right. She captured his pose as he pretends to be an adult and in a position of authority, whilst simultaneously conveying his childlike innocence. Hope also gained an A* in Art and has started an Art Foundation at Charles H. Cecil Studios in Florence.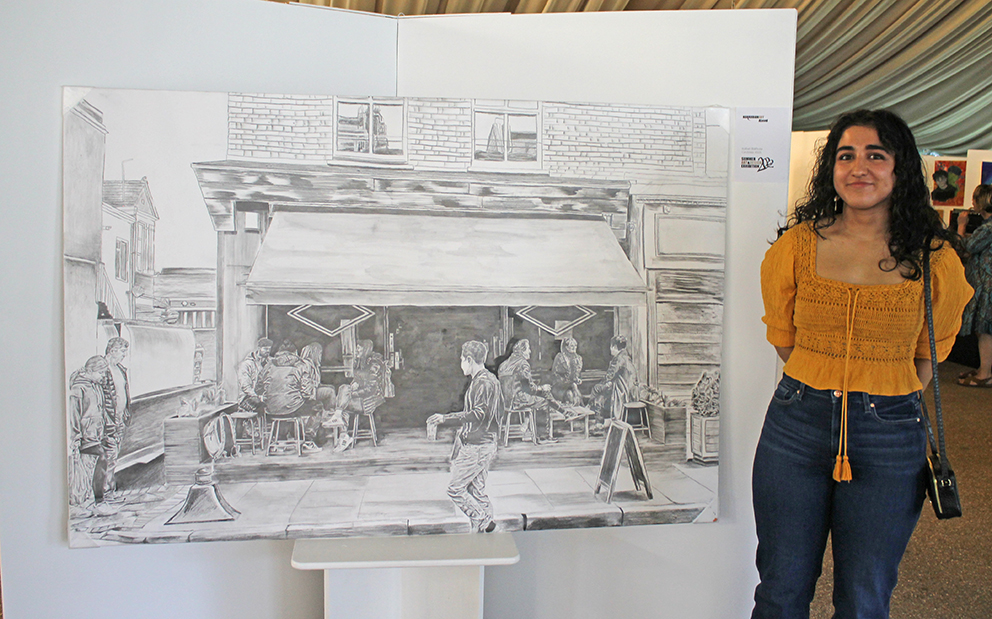 Isabel used her artwork as a medium to reflect on the ongoing physical, social and emotional impact of Covid. Her café scene drawing, above, is about freedom after the pandemic. Cafés and shops re-opening and the ability to meet friends and go shopping. With A*s  in Art and 3D Design, Isabel is looking forward to starting her degree in Product Design and Technology at Loughborough University.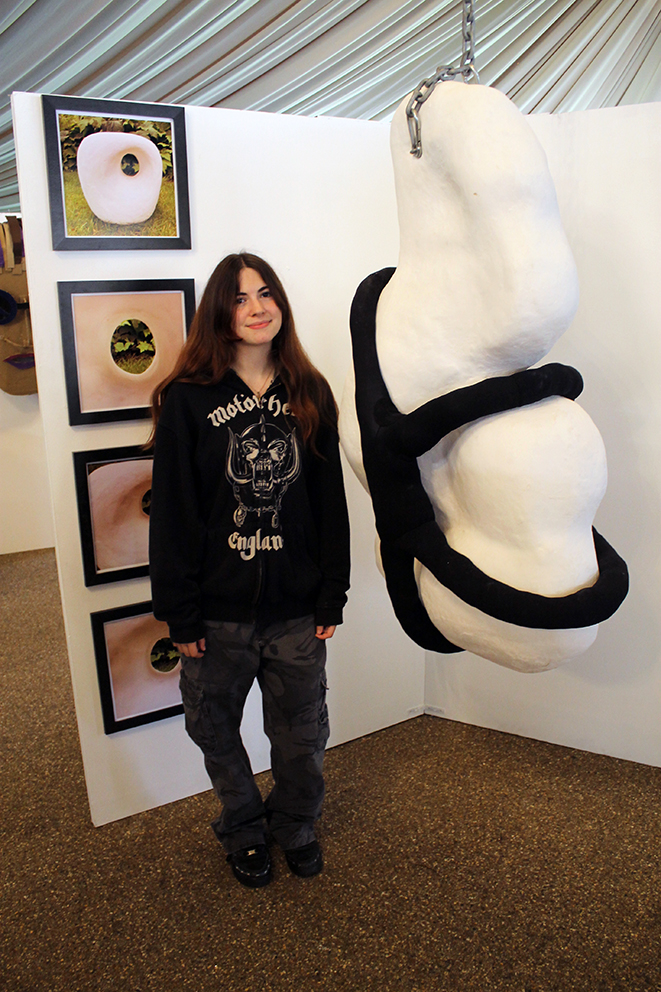 Abbie's biomorphic sculpture, above, is based on the organic relationship between the human figure and nature and set out to capture the wave-like structures of hills, caves and coves. Her inspiration was drawn from artists and sculptors like Henry Moore, Barbara Hepworth and Louise Bourgeois.  Abbie achieved A*s in Art, Graphic Design and Media Studies and is starting an Art Foundation at Kingston.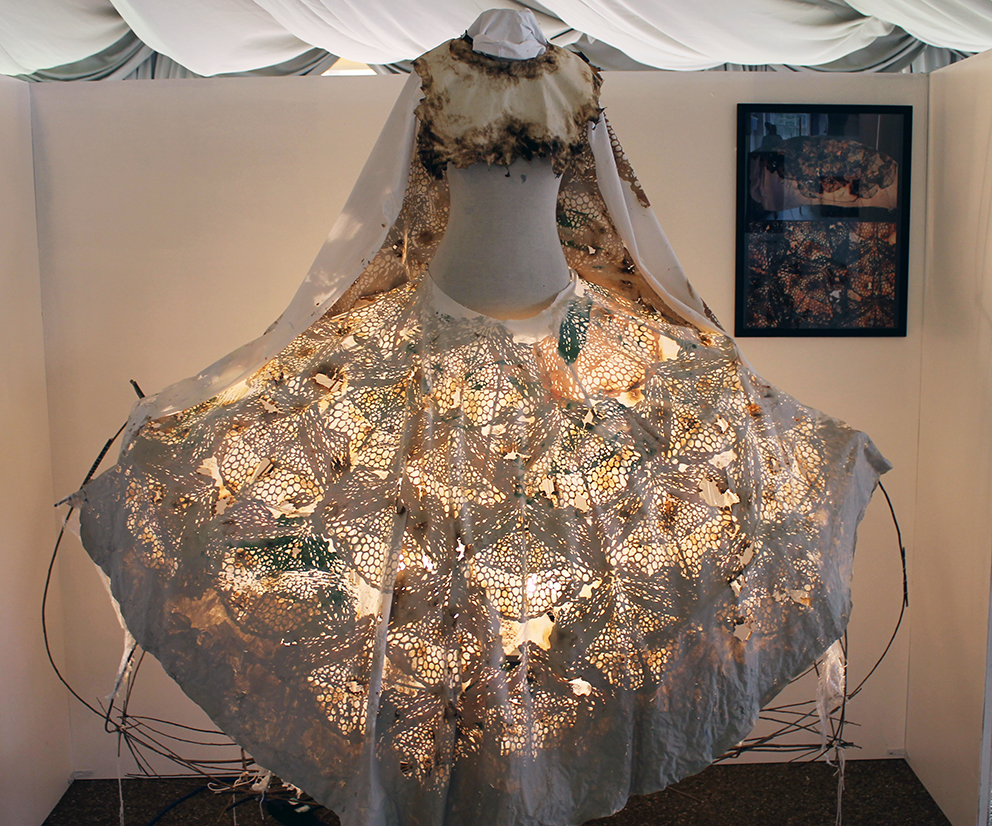 Meanwhile Mia explored the concept of living, growing garments and researched the ways in which artists, architects, engineers and biologists use natural structures like fungi and mycelium in their work. Her dress, featured above, was lit from underneath to highlight the underlying structures in nature that we, as humans, are often unaware of. Mia who also gained an A* in Art will be embarking on an Art Foundation at Central Saint Martins .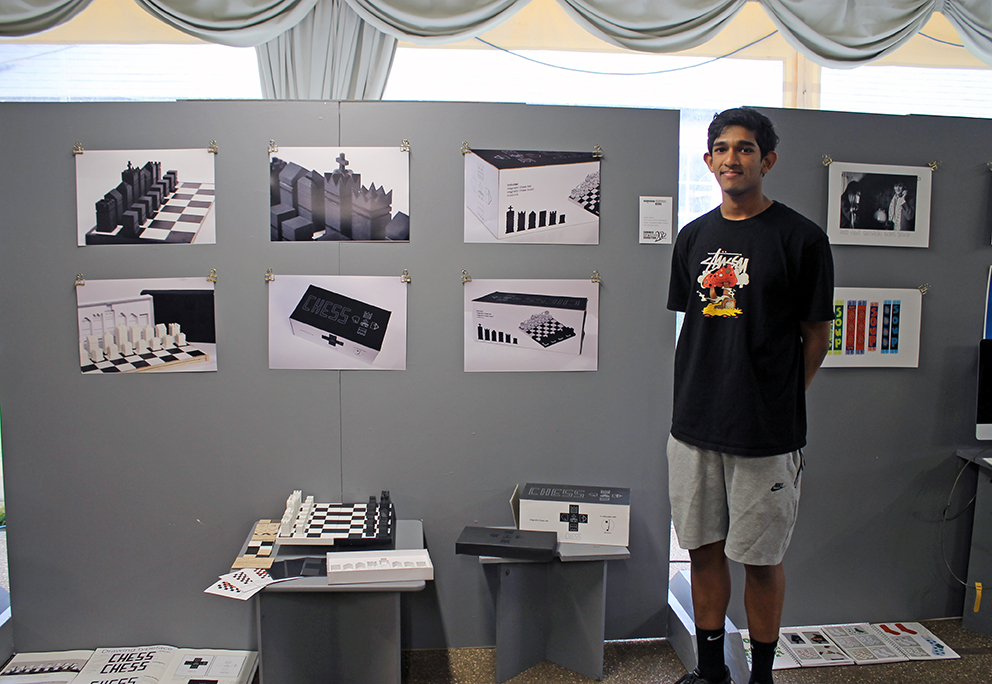 Ayaan, who will be reading Aeronautical Engineering at university, displayed his impressive A Level 3D Design and Graphic Design projects, above.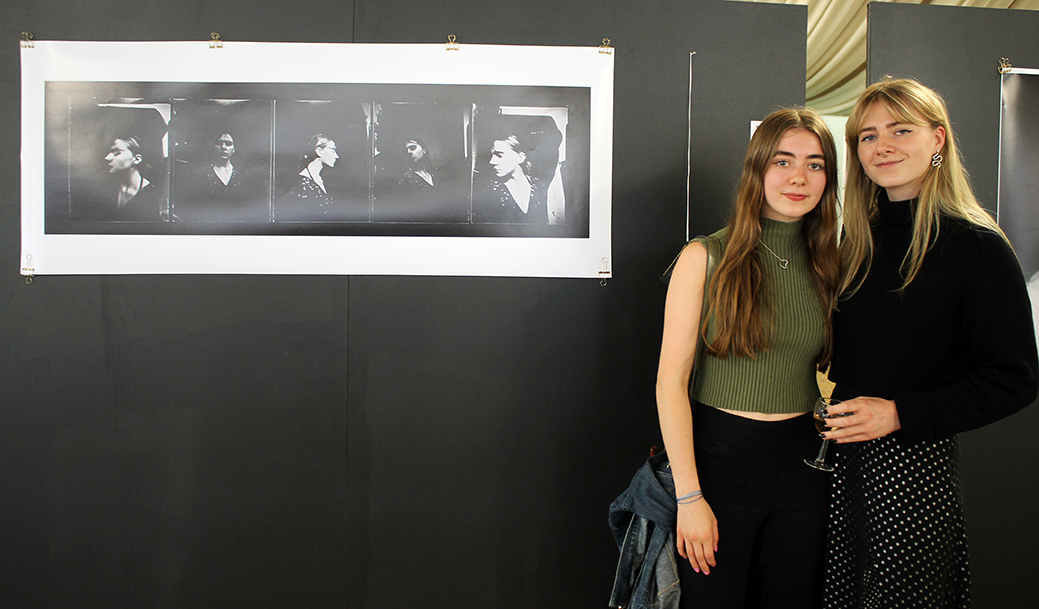 Imogen, above with her older sister and former Harrodian, is featured here next to some of her Photography A Level artwork. 
A Level results in the arts have been particularly impressive this year, with a total of 15 A*s achieved across Art, 3D Design and Media Studies. It is a bumper year in which 10 students* have secured Art Foundation places.
(*please note, not all of them will be taking up their offers)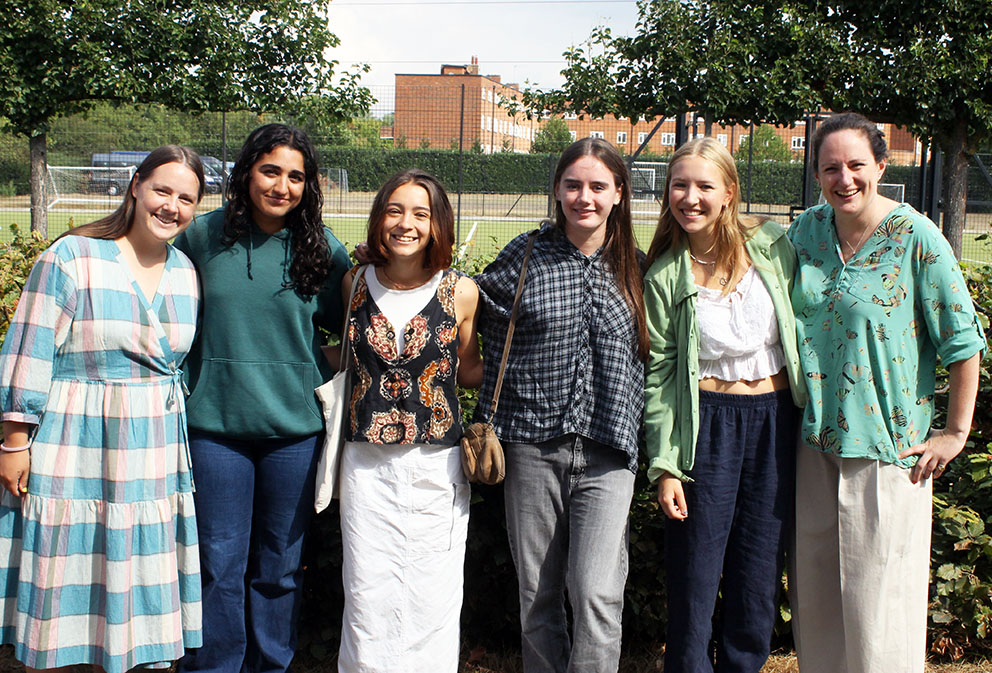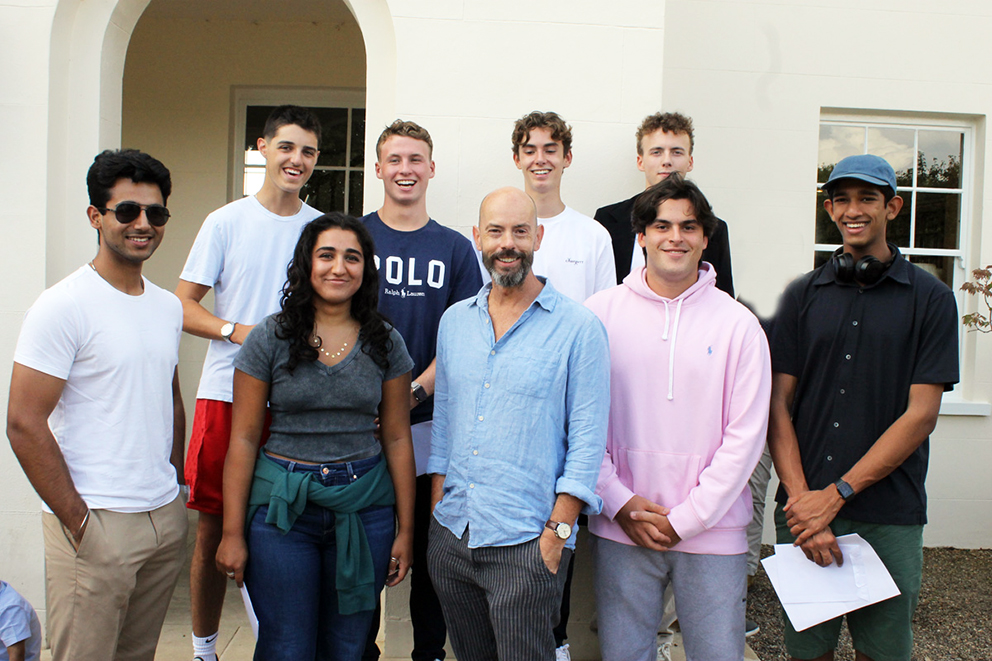 To view a gallery of photos taken at the Summer Art & Design Exhibition (including Media Studies, Graphic Design, Photography and 3D Design) 
Moving on to this term, the Art Department welcomes Mr Joe Simpson, below, to the team.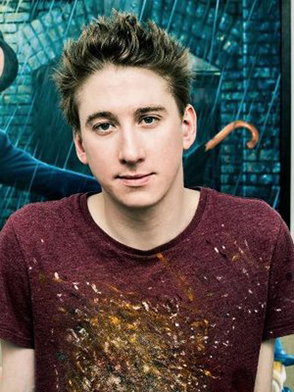 In charge of teaching our Prep pupils, Joe is an exhibiting artist himself and in August this year he opened an exhibition on Great Portland Street. Act - the name of the exhibition - housed a selection of oil portraits that Joe painted of actors in their dream role. Olivia Coleman, John Simm and Matt Lucas are amongst some of the actors that he captured. To find out more, please visit Joe's website by clicking HERE or watch a short trailer for the exhibition HERE. 
There are also a number of exciting art clubs running across both the Prep and Senior schools this term. The posters below are displayed around school and are just an example of the great variety of art activities on offer.