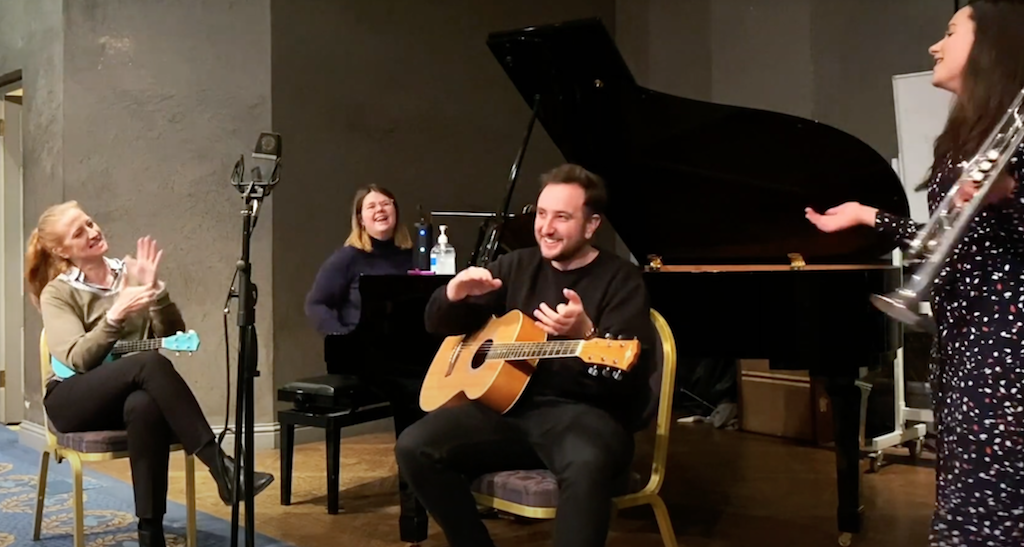 Music has been a precious refuge for many during the pandemic. Here, Mr Hooke sings the praises of Harrodian's own special anthem 'Do What you Can' while our Music team pick their own favourite lockdown tunes
James Hooke, Headmaster: Do What you Can by Harrodian Pupils/Dan Almond
As a long-standing fan of Jon Bon Jovi's 'big-hair' American rock style, I loved 'Do What You Can', last year's tribute to New York City's Covid resilience, so I was delighted when our Music Technician Dan Almond, selected it as Harrodian's own uplifting lockdown anthem. Have another look and listen here! Our pupils' performance is amazing and I love the way Dan's production and film borrow and affectionately spoof the details of Bon Jovi's original video.
Issie Osborne: Sanctuary by Jason Robert Brown
Musical Theatre is what I miss most about 'normal life' and this was the opening number of the first 'virtual concert' I watched! I love the big harmonies and the lyrics seem beautifully fitting for music's place in lockdown.
Lisa Hartley: Beethoven from the Sundowner Sessions by sarahviolin and Lisa Rollin
This is really upbeat and a positive tune! Composed and recorded this during lockdown with my duo partner @Sarahviolin It was released on 15th January and played on BBC Radio Surrey last Sunday! 
Dan Almond: 'Touch' by Sleeping at Last 
I only recently discovered the band but seem to have had this track on repeat ever since! I love the raw, dry production of the track. It's almost as if they could be performing right in front of you; you can hear the clarity of the hammer mechanisms moving within the piano and the imperfect resonance of the bows in the string section which creates an elusive perfection to the track.
Zia Moranne: 'Clair De Lune' by Claude Debussy
Quite simply one of the most beautiful piano pieces ever written and a perfect way to escape the daily onslaught of techno-noise with all its incessant glitching and lagging.  Anyone who hasn't heard it really can't go through life without having experienced it!  
Kerry Sampson: Walk like an Egyptian by the Bangles
I've spent a lot of time on Spotify over the past few months, revisiting my lost youth! So much so that my own children can identify AC/DC, Bon Jovi, Cyndi Lauper and (gasp) Britney Spears better than they can most current artists. We tend to go for 'up' songs that make us jump, dance and laugh!
Melanie Edwards: 'And the Waltz Goes On' by Sir Anthony Hopkins
This is a beautiful, enchanting  and haunting piece. If you close your eyes you can see a ballroom full of people waltzing around the room. It was written by actor Sir Anthony Hopkins in 1964 but he was too afraid to ever hear it played. Hopkins's wife sent his waltz to André Rieu for consideration. 
Hannah Ashe: Peace Piece by Bill Evans
I love the meditative repetition of the accompaniment whilst the melody gradually becomes more improvisatory and dissonant as the music goes on. It's almost like birdsong. I find it calming and thought-provoking. 
Mairi Mctighe: 'Squealing Pigs' by Admiral Fallow
I used to listen to this band a lot and recently watched them play a gig online as part of the Celtic Connections festival in Glasgow. Their songs took me right back to partying and having fun with my pals back in Scotland post-uni...a simpler time! Despite the lyrics, this song has a strangely upbeat feel to it and I love the madness of the instrumental section, particularly the clarinet solo.
Dan Miller: Assorted!
Chilled favourite vocals: Stars, by Ēriks Ešenvalds or O Magnum Mysterium by Morten Lauridson
Upbeat favourite vocals: Don't worry be Happy! by Bobby McFerrin, Or the infectious joy of goodwill ambassador and civil rights activist Miriam Makeba in Pata Pata