Instrumental Groups and Choirs
At Harrodian, we aim to bring the magic of music to the widest possible audience. Members of many of the extra-curricular groups that are detailed below on this page are selected according to ability rather than age. We bring a similar approach to our musical tours and to our Performing Arts collaborations with the Drama department. Our recent production of School of Rock for example featured a cast aged 9-14 drawn both from Prep and Senior schools, several of whom played instruments on stage, as well as singing and acting.
This cross-disciplinary approach contributes to the School's special sense of community. by allowing Harrodians to get to know and work with older and younger pupils who share the same interests and passions.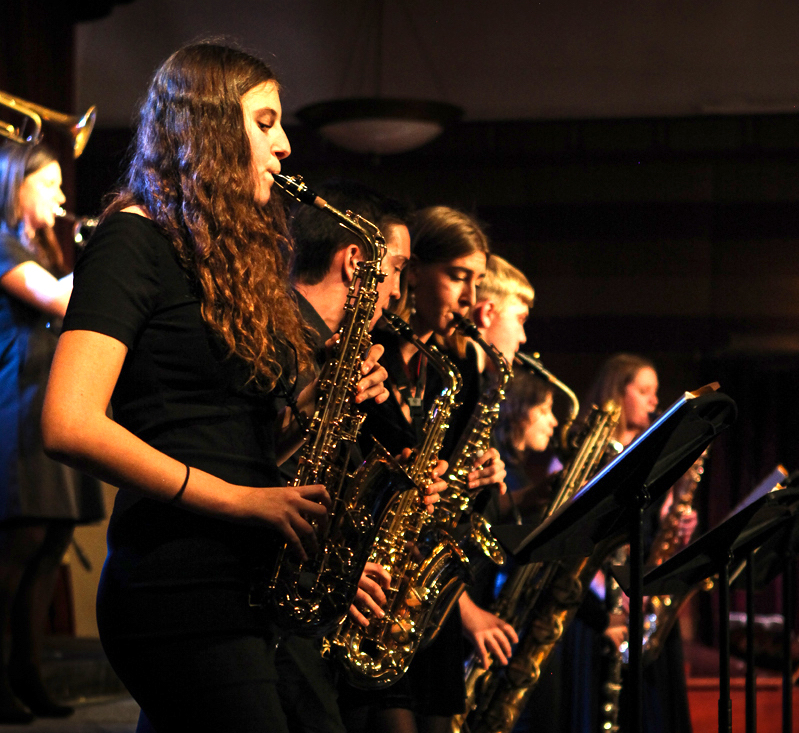 Jazz Band – (Upper Prep and Senior)
The Harrodian School Jazz Band is our flagship music ensemble featuring some of our finest musical talent. The band is open to pupils from the 11s upwards who are at Grade 4 standard or above on their instrument. The band rehearses for an hour per week and performs regularly at school and external events.
Orchestra – (Prep and Senior)
The Harrodian School Orchestra welcomes instrumental players of all abilities and prides itself on the cross section of ages inspiring each other. This group is conducted by Ms McTighe who is herself a trumpet player. She encourages members to develop a passion for orchestral music in a wide range of styles: from John Williams' film scores to Grieg and Bizet!
Senior String Ensemble – (Senior and Sixth Form)
Led by Alison Holford (visiting cello teacher), the ensemble is open to string players of grade 3 standard and above. Repertoire ranges from baroque and classical to arrangements of popular songs. Regular performances take place throughout the year in assemblies, recitals and larger concerts.
Sixth Form Chamber Choir – (Sixth Form)
The Chamber Choir is an auditioned mixed group of approximately 15 singers (SATB) from both the Upper and Lower Sixth keen to tackle more challenging choral repertoire. Auditions take place in September of each year and full commitment is expected of members of this prestigious group. The choir performs regularly at concerts and events throughout the year.

Senior Choir – (Senior and Sixth Form)
Senior Choir is a non-auditioned, mixed ensemble open to all pupils in the 13s through to Sixth Form. The repertoire tends to be focused more towards popular music but we aim to develop skills in three and four part harmony through fun arrangements of well-known music. The choir rehearses during one lunch time each week and performs at termly concerts.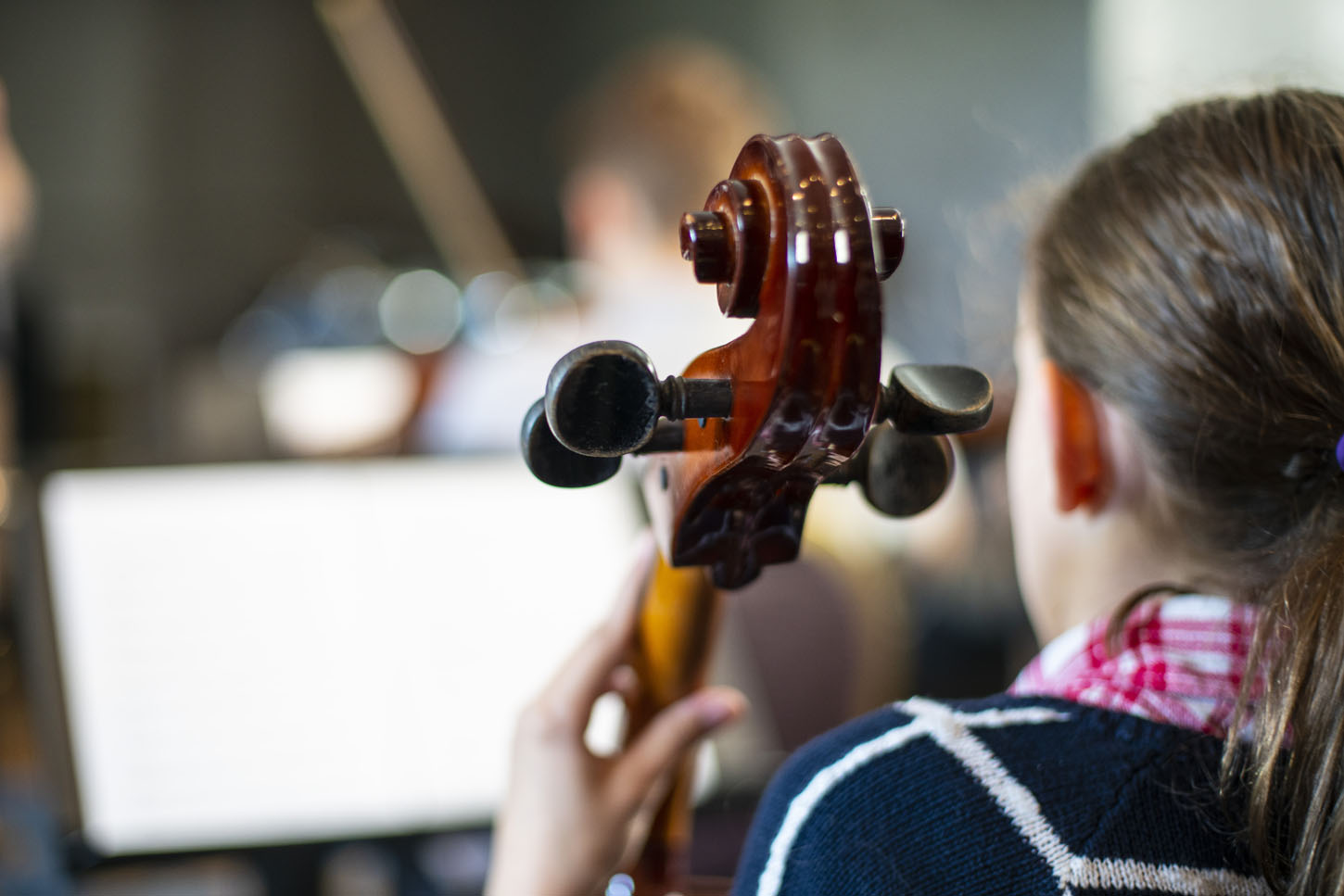 Junior String Ensemble – (Pre-Prep and Prep): Led by Lisa Hartley and Alison Holford (visiting violin and cello teachers), our junior ensemble is open to string players of all abilities and aims to develop basic ensemble playing skills through simple arrangements of fun pieces. Junior strings rehearse on Monday mornings before school and perform regularly in Prep and Pre-Prep assemblies and recitals.
Percussion Club (Lower Prep): Run by Lewis Webb (visiting percussion teacher), the group rehearses weekly and loves to make lots of noise! The department is equipped with a wide variety of percussion instruments and we have recently acquired a set of 'boom whackers' which are proving to be a lot of fun!
Band Club (11s and 12s); Run by Paul James (visiting guitar teacher), Band Club is open to all pupils in the 11s and 12s who would like to be a part of a band. Paul helps to bring groups together and assists with songwriting. Many bands formed in this club go on to enter (and sometimes win) our prestigious annual Battle of the Bands competition.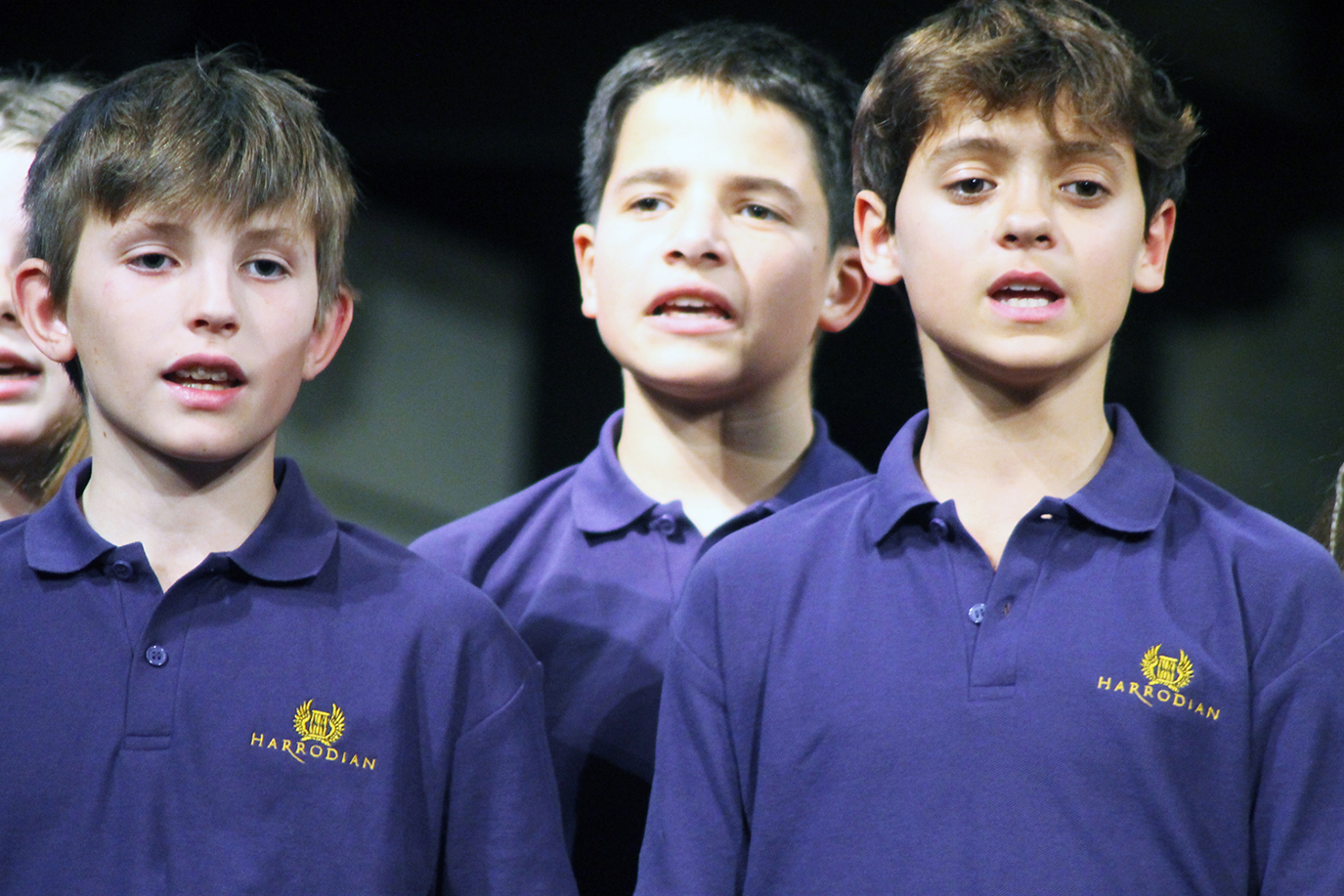 Training Choir - (11s and 12s): The Training Choir is a non-auditioned, mixed group open to all pupils in the 11s and 12s. The choir sing in a range of styles from Bach to Shakira (yes, really!) and the aim is to foster a love of group singing, developing skills in singing in parts. The Training Choir rehearses during one lunch time each week and performs in regular music assemblies and termly concerts.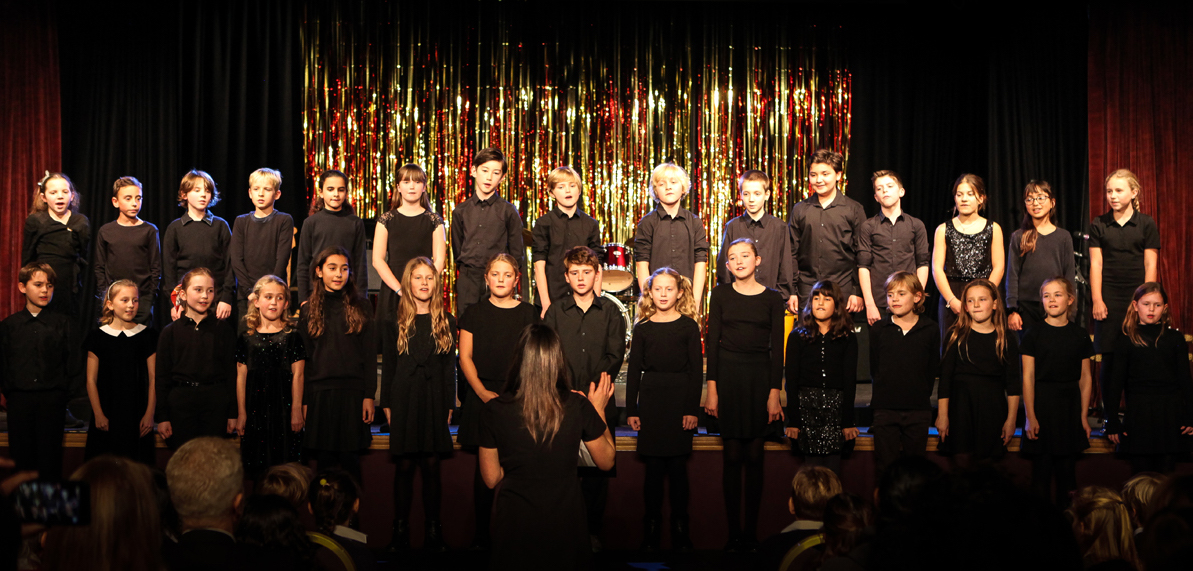 10s Choir – (10s only): This mixed group are introduced to two part singing through fun repertoire (recent songs have included music from 'Matilda' and 'The Lion King', as well as pop songs by The Killers) led by Ms McTighe. Performances take place throughout the year but the group especially look forward to singing in their end of year Graduation Ceremony in July!
8s and 9s Choir – (8s and 9s): This choir is open to all pupils in the 8s and 9s and we really do encourage everybody to come along and join in. The songs are fun, often with actions, and frequently silly. The choir is conducted by Mrs Ashe, Director of Music and it is an excellent way for her to get to know pupils lower down the school. The choir performs in assemblies and in a concert at the end of each term.
Trips and Tours
There are trips throughout the year to see relevant concerts and musicals - Royal Festival Hall, Cadogan Hall, the Barbican.  Once a year, the Music department takes a group of senior musicians on an international tour. Recent destinations have included Krakow (2019), Budapest (2018), Vienna (2016), Athens (2015), Barcelona (2013) and New York (2012). 
Battle of the Bands Competition
This highly popular event in the School calendar takes place every spring term serves as a focal point for the many musicians and singers at Harrodian who form their own bands and musical groups. In the past, winners have won themselves the opportunity to play at the Isle of Wight Festival.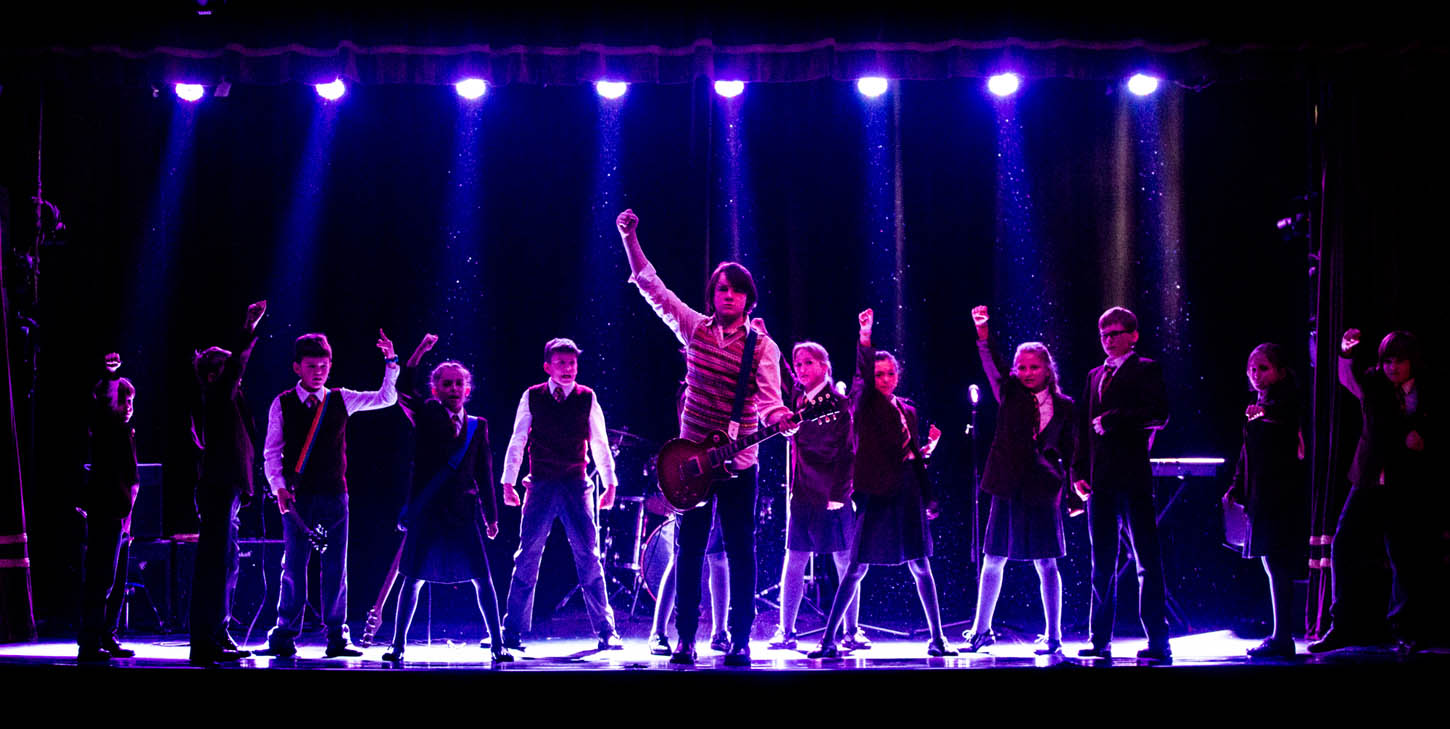 Musical Drama
Harrodian music department collaborates with the Drama team to produce Performing Arts productions such as School of Rock and, in 2020, The Addams Family. To read how  such collaboration worked on School of Rock please follow this link  and to see more production pictures follow this one
One to one music lessons


We are also able to offer specialist extra-curricular tuition on the following instruments: voice, piano, violin, viola, cello, flute, clarinet, oboe, saxophone, recorder, trumpet, trombone, French horn, guitar, bass guitar, percussion/drum kit and music theory.  To apply for private lessons, please follow the link below
Download our Music Class Application Form for further information.
Please use this link for Prep and this one for Senior school for Drama, Music, Art, Design or Photography curriculum information,