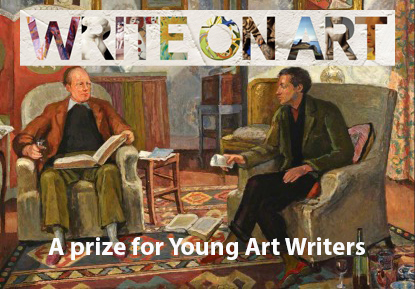 History of Art student, Dasha, shares her award-winning essay about a painting by artist and member of the Bloomsbury Group, Vanessa Bell. Reviewing the portrait, she finds a pair of like-minded individuals who share a deep connection, contrary to the opinion of many art critics of the time who often branded the elitist individuals. 
'Write on Art' is a prize for young art writers sponsored by Art UK and the Paul Mellon Centre for Studies in British Art. Out of 400 essay entries, Dasha was awarded runner up and received a cash prize.
Please read the essay below:
Interior Scene, with Clive Bell and Duncan Grant Drinking Wine 
Vanessa Bell (1879-1961)
Birkbeck, University of London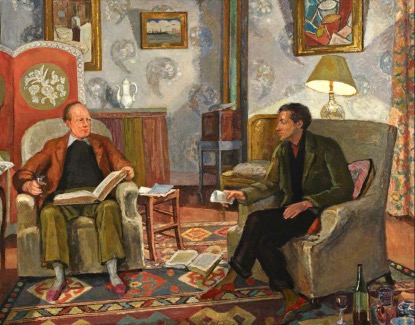 1999: The writer and historian Paul Johnson describes the Bloomsbury group as "Elitist, mendacious, malicious" in the Sunday Telegraph.

Yet what Vanessa Bell, one of the central figures of the group, captures in earnest is the warm and intellectual conversation of a set of friends who re-shaped the British attitude to art, politics, and sexuality through their bi-weekly meetings at 47 Gordon Square. 

Placed at eye level with Duncan Grant and Roger Fry we are granted entrance into the scene, as if on an armchair of our own, and allowed a momentary experience of an ambiance where Bell felt there was "nothing that one could not say, nothing that one could not do". The coffee table in the bottom right corner supports a bottle of wine and Vanessa Bell's wine glass, which becomes ours, acting as repoussoir to suggest a depth natural to the human gaze. A harmony is propelled through the mellowed, analogous hues in which yellow ochre seems to underpin the composition, evoking ultimate warmth and comfort. It reverberates throughout the painting, from the lamp behind Grant, to Fry's trousers, to the counter behind him; even acting as the warm light spilling onto the right sleeve of Duncan Grant's blazer. 
Bell transmits a sense of ease and deep connection that defined the group's relationships. Fry appears to have been reading, yet his gaze in Grant's direction is that of quiet engagement, giving no indication of having been interrupted. This balance of the private world, outlined by the act of reading, and the public world, highlighted by the interaction, was the key to the Bloomsbury group's environment of flourishing ideas: a combination of discussion and personal thought. Grant's right arm is outstretched with a folded sheet, bridging the gap between him and Fry, echoed by the open book that visually connects their two armchairs on the floor below, leaving us to face a tableau of unawkward, unforced, unspoken connection.
Even our own presence feels welcome, despite neither of the figures engaging with us. With Roger Fry's body facing the viewer openly, and Duncan Grant's being angled ¾ towards us, we feel as if we could become part of their conversation without hardship. This comfort is given grounds by Vanessa's point of view since in her open marriage with critic Clive Bell she maintained romantic relations with both Grant and Fry, building a stronger layer of attachment between the three of them. We could almost picture a tether connecting the viewer, Fry, and Grant, forming a certain "triangle" of love which Dorothy Parker famously remarked upon.  
Still, the triangle is uneven. Our attention is drawn substantially by the tilted yellow lamp above Duncan Grant and the directional light that traps his form in between two clear diagonals. Where his face may be in shadow, his importance is instilled by the visual weight that his dark clothing soaks up, appearing grave under the light. Bell grants him an air of dignity out of personal respect, and perhaps due to feelings for him that were stronger than those of hers for Roger Fry - Grant remarked in his diary that if he showed her any passion "it would be met by such an avalanche that [he] should be crushed".
And so we are softly plunged into a work of such serenity as to make even the most judgemental viewer doubt Paul Johnson's statement. Vanessa Bell paints individuals who are dependent on each other, inspired by each other, and entirely devoid of judgement towards one another - aiding to renew our perception of the Bloomsbury group today. 
Written by Dasha (Upper Sixth)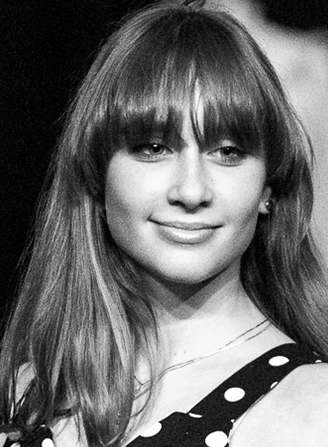 Further reading and sources: